Do you go to any other country without luggage? 
It's impossible to go without a suitcase. Now you might think why luggage is important?
Wherever you go, like the part on an adventure, trying to cross an unknown path. You always need luggage. It will increase your best travel experience. You can be calm during the entire trip.
But many people ask me, why luggage is so expensive? 
If you want high-quality luggage, you need to invest in it. I use some cheap luggage. They bothered me so much. Sometimes it's a wheel or zip break. So now I invest in my high-quality suit bag.
In this article, I am going to tell you the reason for the high price of luggage. After reading this content, you will clear about this topic. Then you think the expensive luggage is good for quality maintenance. 
I am trying to give the knowledge about the cost of travel baggage, the reason of expensiveness. Which suitcase should you buy the expensive or cheap one? You will get detailed knowledge about this topic. 
Keep reading to gain knowledge.
If you go to the market first to buy a suitcase, you will be shocked by the price because the price of a medium type of luggage is around 50-100$. And if you desire to purchase a premium suitcase, you have to cost above 200$. On the other hand, if you want to buy luxurious brand suitcases, the price range is above 1000$. Lower or middle-class people that are out of reach.
There are various purpose why the price of a suitcase is relatively high. Because the durable material with which a suitcase is made is much more expensive. It costs so much to make a good quality suitcase that is beyond your imagination. The whole body of the suitcase is made with high-quality materials.
Good quality luggage companies focus on making the luggage durable. In addition, they provide extra features in the luggage. As a result, it costs a lot to make each sturdy suitcase. A good quality suitcase also has a lifetime guarantee.
If you pay a little more then you can buy a good quality suitcase. Which will give long-lasting. So if your trip so far with a piece of luggage, there is no fear of falling. As a result, the products inside the suitcase will be safe during travel.
Is an aluminum luggage so expensive?
Yes, the aluminum luggage is too much expensive. The aluminum suitcase is one of the expensive suitcases. Its price is absolutely skyrocketing.
One of the two limitations of the aluminum suitcase is that it weighs much more than other luggage and the other is that polycarbonate luggage is much more durable than this luggage.
Despite the limitations, the popularity of aluminum luggage is much higher than other suitcases. The main cause is luggage dents, scruffs, and scratches. As well as keeping the luggage secure, they use a latch closure system instead of zippers.
The price of a good brand aluminum suitcase is much higher. Because their production cost is also much higher.
4 reason for expensiveness of luggage: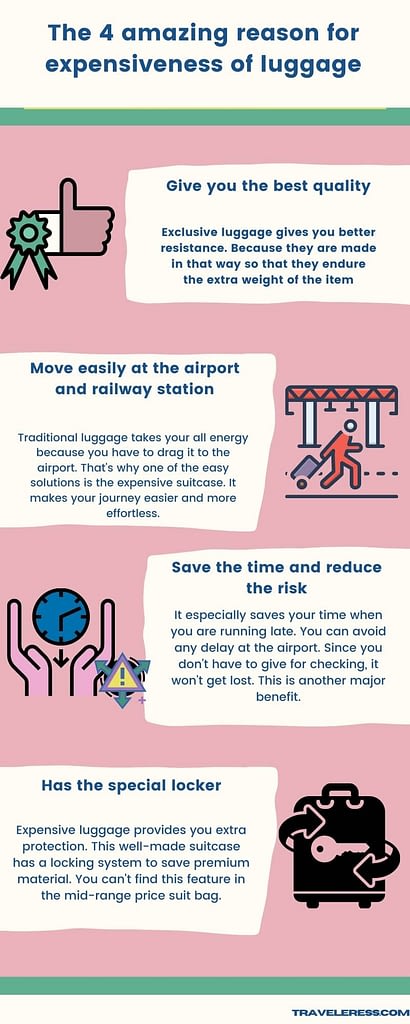 Give you the best quality
Expensive pieces of luggage give you the best quality. It has lots of advantages. One of them is protection. It also secures your durable material. 
Exclusive luggage gives you better resistance. Because they are made in that way so that they endure the extra weight of the item. On the other hand, the traditional suitcase is not designed for extra weight and they bring different issues.
Before the luggage was weak, thick. But now the luggage component is very stable. This suitcase is made of a stronger material like polycarbonate or ABS. This material makes the bag more secure and durable.
The thinner suit bag allows enough space inside. You can insert your all valuable things. For this reason, your mind will be calm throughout the journey. And you don't have to face any difficult situation before reaching the destination.
Since it provides a high-quality option, it has the right to take high costs.
Am I correct? What are your thoughts on this matter?
Move easily at the airport and railway station
A big-budget suitcase has another benefit. And that is movement. You can move the high-quality luggage easily at the air travel.  
Traditional luggage takes you all your energy because you have to drag it to the airport. That's why one of the easy solutions is the expensive suitcase. It makes your journey easier and more effortless.
One average traveler faces the exact problem. Because they carry the traditional suit bag.
Manufacturers design the suitcase that reduces your troubles. You must seek a bag that is easy to move. So you should contact that luggage maker.
Save the time and reduce the risk
Size is very important when you choose the suit bag. You can choose the cabin size. It especially designs for traveling by plane or train. Like this way, You can enable to save time.  Without any need to go through the airline's check-in process.
It especially saves your time when you are running late. You can avoid any delay at the airport. Since you don't have to give for checking, it won't get lost. This is another major benefit.
Has the special locker
Expensive luggage provides you extra protection. This well-made suitcase has a locking system to save premium material. You can't find this feature in the mid-range price suit bag.
Here you can store clothes, toiletries, tech devices in one bag. You can also use the luggage strap. So that you can protect luxury brand luggage.
Should you buy expensive luggage or a cheap one?
Suitcases are especially involved with travel. Because when we go on the trip, we have to carry some products. Which is not possible without a suitcase. Luggage is very important, especially for those who go on trips frequently.
Cheap and expensive suitcases are available in the shops. But the problem with cheap baggage is that it is not very durable. This can lead to suitcase problems at any time. Which can put you in danger. So in my opinion when buying a suitcase should look a little expensive.
Suppose this is a long-term investment of yours. Good quality suitcases give guarantee a lifetime. Because these suitcases are made with better quality materials. As a result, there is no fear of damage to the luggage handles, locks, and body. So you will not have to face any danger while traveling and you will be able to enjoy your journey.         
Some expensive luggage for you
Are you a business traveler? I am saying this because many business travelers prefer platinum softside bags. You can also look at travelpro Platinum Magna 2.
For high-density ballistic nylon fabric, your checked luggage stays damage-free. DuraGuard coating provides further protection to damp environments and breakage. Thus travelpro Platinum keeps your accessories well-protected during transportation.
Travelpro Platinum Magna 2 features spinner wheels. Those double spinner wheels roll straight or in any direction. It is not swaying or dragging on one side or the other like typical Spinner baggage does. By using these spinner wheels, your travel will be enjoyable.
The roomy interior expands 2 inches for maximizing packing space and maintaining a low center of gravity. This checked luggage offers accessory pockets, interior pockets, and a mesh pocket. They designed the hold-down method to aid in the organization of necessities.
Feature:
1. Composed of high-density nylon fabric
2. It has a capacity of almost 49.4 liters
3. Contour Grip padded for comfort and control
4. A premium suiter to keep business suits wrinkle-free
5. Three lengths of telescoping handle: 38 in., 40 in., and 42.5 in
6. The main compartment is spacious, with up to 2"
7. Perfect for frequent business and personal trip
Contour Grip with cushioned contact areas provides increased comfort and flexibility. When completely extended, the PowerScope extension handle reduces instability. I feel so comfortable holding the handle. Leather top and side carry handle, and a bottom handle cup, offer a variety of carrying choices.
ThisTravelpro platinum Magna upmarket luxury baggage is spacious enough to carry all you need. It's perfect for a short getaway while the bag design remains stylish and sleek.
Are you ready to enjoy the vacation by using this bag?
Many people face one problem that they can't find a lightweight which is durable. So they become depressed. They feel tension about their belongings.
But I want to introduce you to one of the best lightweight luggage. That is Perry Ellis Lexington. It is build of durable materials so that it protects your valuable items. And add an extra layer of protection. 
There are different sizes available. You can use both big and small sizes. Big size perfect as checked luggage and small size perfect as carry-on bags. The combination of both ease your journey. Both lightweight bags can hold a good amount of items. Sometimes the best luggage set improves the happiness of the tour.
There is also a spinner wheel system available. These 360-degree spinner wheels ensure smoothness at the airport. You can easily move this spinner luggage in any direction.
Feature:
Perry Ellis build from high density polyester
The dimensions of this carry on are 13.5 x 10 x 22 inches
 Weight of this lightweight suitcase 8.48 pounds
The manufacturer is Perry Ellis Luggage
Perfect for the modern guy
Offers 2 more inches for additional packing capacity
Comes with 4 wheel, 360 degree rolling spinner wheel

Perry Ellis Lexington lightweight luggage comes with a 3-year warranty. The customer service is so helpful. If you inform them about the problem, they will solve your problem.
However, there is one thing to consider. You need to treat your new luggage carefully. Don't neglect your suitcase. Otherwise, the warranty will not be applied. 
If you become a little careful about this carry on lightweight luggage, it will be long-lasting.
One of my favorite quality products is Delsey Paris Chatelet hardshell luggage. It stands out among the biggest airlines.
I personally use this product. When I see it, its design amuses me. It looks luxurious because of its unique style with faux leather accents. Many of my friends praise Chatelet hard-sided luggage. For me, it is a piece of excellent luggage.
It has a 3-dial TSA-approved combination lock. This keeps the item secure. Here also have unique brake system locks. You may prevent this with the use of this suitcase from rolling away.
Features:
It made of a polycarbonate shell
10 year limited warranty
Its product dimension 9.5 x 20.25 x 14.25 inches
Item Weight: 10.45 pounds
Its manufacturer is Delsey Luggage
The material of the Delsey Paris Chatelet hardshell luggage: Virgin polycarbonate
Although it is quite expensive, worth it. Because it's not cheap luggage. The price of a good thing must be a little higher. Am I right? This piece of luggage is my favorite.
If you travel with peace of mind, this luggage is perfect for you.
Samsonite S'Cure is the best hard side expandable luggage with a spinner wheel. Many frequent flyers and professional travelers use this and they also recommend it for everyone.
Nowadays, samsonite is more popular among pilots and cabin crew. Samsonite has many types of luggage. Such as casual bags, backpacks, laptop bags, etc. They build trust from their customer. They have good quality, durability, functionality, stylish.
Samsonite s'cure is one of them. For the spinner wheels, you can move easily from one location to another. You can take any of the sizes because s'cure comes in a variety of sizes.
This hard-sided luggage is so strong and durable. It can save your belongings safe in rain. Because samsonite s'cure luggage can resist water. You can easily clean it.
Features:
It made of hardshell polypropylene
The product dimensions of samsonite s'cure hard-sided luggage 28.5 x 18 x 11.5 inches
Its weight is 11 pounds
360º Double spinner Wheels
The manufacturer of this piece of luggage is samsonite Corporation
This luggage has TSA approved lock
10-year manufacturer's warranty
Telescoping or recessed multi-stage pushbutton locking pull handle
I hope you like its expandable feature. I also love it. It is affordable and high-quality material. This luggage has all side handle. Here is a benefit. That is, you can carry the luggage sideways, upside down. The handle is made of aluminum. As aluminum is a sturdy material, there's no need to be concerned about breaking the handle. If you are planning for your next long trip, it can be perfect for you. Use the luggage and enjoy your journey.
Some cheap luggage for you:
If you ask me which bag I use for my suit. I take travel select Amsterdam luggage for the suit. It fulfills my needs. My favorite outfit was wrinkle-free. Travel select Amsterdam is better than any other rolling garment bag.
It is an affordable garment bag that won't set you back a month's payment. Although it comes at a reasonable price, there is no regard for performance. Because it is a high-quality garment bag. It is also a durable and strong rolling bag. So this bag can fight against scrapes and bumps.
Travel select Amsterdam has a spacious main compartment. Here you can keep your suits and gowns. There are also two exterior pockets so that you can keep easy access to things.
The internal handle mechanism and in-line skate wheel make it simple to manage. An adjustable shoulder strap helps to keep clothing in place. It also provides a center strap to carry an additional bag.
Feature:
Travel select built of 1200D 2-Tone polyester
Weight of the rolling garment bag is 9.3 lbs
Comes with 4 different colors
Large main area with mesh zipper pockets
There is a central strap for carrying an additional bag
Tie straps are supplied to securely secure goods within the bag
Multiple things can be kept on the center hook
The garment bags come with exterior zippered pockets. It allows you to keep travel documents, passports, earphones, wallets, cell phones. It will stay close to your hand. So you can take easily these things.
You can pack everything for 3-4 days' tips. And you won't regret choosing this bag. Travel select Amsterdam travel garment is ready to travel. Are you ready to enjoy and vacation by using this best travel garment bag?
Do you desire to go on a business trip?
Then Kenneth Cole Reaction leather luggage is the perfect choice for you.
It looks friendly and polite because it is constructed of marbled leather-like PU, lined on the inside, and stitched with white thread. You will love it. Its audacity, intensity, and diversity will impress you.
The wheel of this leather bag provides you with effortless mobility. So you don't need to face difficulties at the airline. The folded handle helps pull. And in-line skates provide you with effortless mobility.
The front section has two open-top pockets, a detachable Accessory pouch, a cushioned tablet pocket, and a padding computer pocket. You can keep here the handy things. 
Feature:
1. Leather bags made of a tough, pebbled leather
2. Overall Size of this Kenneth is16″ L x 13.5″ H x 7.5″ D
3. And size of the Laptop Compartment is 15.25″ L x 12″ H x 2″ D
4. Self-repairing zippers are meant for long-term use.
5. Most 16-inch computers and tablets are accepted
6. Two elastic open-top shoe/accessory compartments
7. A fantastic carry-on bag for work or pleasure travel
8. Manufacturer's the limited lifetime warranty
For holding a variety of business essentials, there is a more prominent front exterior zipper pocket. It includes an extensive organizer. You can keep your mobile, pen, tab in your front pocket.
If you are a businessman or woman, this top grain leather bag will be excellent for you. Once I went to international travel and this bag helped me. I think Kenneth Cole Reaction leather luggage is worth your money.
Are you looking for a suitcase that comes at an affordable price? 
I know one suitcase that is both affordable and high quality. And that is amazon basics pyramid carry-on spinner luggage. They are very inexpensive, yet they perform surprisingly well, particularly considering the price.
For the material ABS and PC, this hard shell carries on stay scratch resistant. It is a durable suitcase. The outer shell is very strong. That's why your accessories remain safe and secure. 
One thing you will really love and that is weight. The weight of this suitcase is 6 lbs. Can you imagine how lightweight is it? You don't have to carry heavyweight for this lightweight spinner suitcase. It's also ideal if you have to maintain specific weight limits.
Feature
1. Outer measurement (including wheels) is 14.7 x 9 x 22.4 Inch
2. And Interior metrics of this case 14.3 x 8.6x 19 inches
3. four 360-degree spinning wheels ensure a smooth ride
4. Ideal for carry-on and accepted by airlines
5. This spinner suitcase's internal capacity 39 Liters
6. Excellent for air travel, road vacations, or business
7. This carry on is an excellent piece of luggage for the price
Amazon basics pyramid features a TSA-friendly lock, which provides the security of your baggage. I really like those suitcases which have TSA locking feature. It also includes an outer shell with a design. For that, any scuffs and scratches won't be too visible. 
The carry on suitcase's interior is fully lined and separated into two packing sections. One pockets features a zipped divider with a complete panel, while the other has basic elastic cross straps and a single zippered pocket. 
This hardside spinner case is a fantastic option if you don't spend dollars on spinner luggage. So ready to travel with an amazonbasics hardside spinner? 
How do you recognize a durable suitcase? 
You must want the suitcase to be durable.
There are some ways to identify durable suitcases.
Which suitcase is of good quality and which suitcase is of low quality can be understood by looking at the fiber used in the suitcase. So when buying a durable suitcase, you have to look at the type of fiber used in the body of the luggage. Expensive suitcases are usually made of polycarbonate or aluminum. As a result, the suitcases are not easily damaged but are long-lasting.
Then you have to look at the handle of the luggage. You need to make sure that the handle of the suitcase is sturdy. When buying a suitcase, pull the handle. This is because if the handle is much smaller than your height, it may hurt your feet while walking. You must lock your luggage handle.
Another significant element of the suitcase is its zippers. The suitcase should not only be durable but also ensure that the products inside the luggage are safe. So the role of zippers is so much. When buying a suitcase, you must notice whether the zipper is manufactured of plastic or metal. Because zippers made of plastic are not strong. As a result, there is a possibility of breaking. Some luggage has self-repairing zippers. You can buy a suitcase by looking at such zippers.
Buy a suitcase with a TSA-approved lock for extra security. Because all the locks used in the luggage are not allowed by TSA. If you buy a suitcase with a TSA-approved lock, you will not have to wear any problem during check-in.
Now some new types of suitcases are available in the market, which has a USB charging port. If you buy such a suitcase, there will be no fear of losing the charge of the electronics you are carrying. This type of luggage will be helpful for you if You travel for business. Many suitcases have pockets. If you prefer pockets in a suitcase, then you can buy this type of suitcase.
Why Do Airlines Charge Such Expensive Luggage Fees?
When we go out to travel, we pack our valuable things in our suitcase. But if there is no limit to airline baggage fees, then think about what can happen.
If there was an opportunity to travel with luggage as desired, everyone would pack all their necessary or unnecessary products in luggage. As a result, the amount of luggage would be much more.
If the amount of suitcases is more, the main problem occurs during check-in. If all the passengers had taken their luggage to the airport at will, there would have been chaos. And it takes a lot of time to check all the luggage individually during check-in.
And among so many suitcases, there is a possibility that the suitcase will be lost or overturned. For these reasons, the airline has kept the luggage fees so high.
If you have been traveling for the last few years, one thing you will notice is that airplane ticket prices are declining these days. But luggage fees are rising.
Passengers are not carrying much luggage as the luggage fee is so expensive. They are just packing the necessary elements in their luggage. As a result, the airport authorities are not having to worry about luggage.   
Final thought:
Is it clear why the luggage is so expensive?
You can make your travel efficient and pleasant by taking expensive luggage from the luggage company. This suitcase can protect your premium material.  You can get better service which the average traveler doesn't get.
In air travel, Using a big-budget suitcase help you to gain the best travel experience. The luggage maker designs this so that you get the best and well-made suitcase.
If you the person who is a frequent traveler and have a mid-range price, you can buy those too. That piece of luggage is available in many luggage companies.
But if you take expensive luggage, you can get a lifetime warranty. You will get also better terms of features than a traditional suit bag. 
In this chapter, I discuss the reason for the expensive suitcase. I also give you some knowledge about how you look for durable check-in luggage. 
Can you get the idea for buying a suit bag? Hope you can buy the best luggage.
Now I want to know from you, what you think?  Should you buy expensive luggage? Or should you buy the cheap one?
Inform me by commenting below. If you find this helpful, don't forget to share. Ok???
Thank you for reading the article.