Do you go to any other country without luggage?
It's impossible to go without a suitcase. Now you might wonder why luggage is important.
Wherever you go, like the part on an adventure, trying to cross an unknown path. You always need luggage. It will increase your best travel experience. You can be calm during the entire trip.
But many people ask me why luggage is so expensive.
If you want high-quality luggage, you need to invest in it. I use some cheap luggage. They bothered me so much. Sometimes it's a wheel or zip break. So now I invest in my high-quality suit bag.
In this article, I will tell you the reason for the high luggage price. After reading this content, you will be clear about this topic. Then you think the expensive luggage is good for quality maintenance.
I am trying to give knowledge about the cost of travel baggage and the reason for expansiveness. Which suitcase should you buy, the expensive or cheap one? You will get detailed knowledge about this topic.
Keep reading to gain knowledge.
Why did the luggage cost so much?
If you go to the market first to buy a suitcase, you will be shocked by the price because a medium type of luggage is around 50-100$. And if you desire to purchase a premium suitcase, you have to cost above 200$. On the other hand, if you want to buy luxurious brand suitcases, the price range is above 1000$. Lower or middle-class people that are out of reach.
There is various purpose why the price of a suitcase is relatively high. Because the durable material with which a suitcase is made is much more expensive, it costs so much to make a good quality suitcase that is beyond your imagination. The whole body of the suitcase is made of high-quality materials.
Good quality luggage companies focus on making the luggage durable. In addition, they provide extra features in the luggage. As a result, it costs a lot to make each sturdy suitcase. A good quality suitcase also has a lifetime guarantee.
If you pay a little more, you can buy a good quality suitcase that will be long-lasting. So if your trip is so far with a piece of luggage, there is no fear of falling. As a result, the products inside the suitcase will be safe during travel.


10 reason for expensiveness of luggage: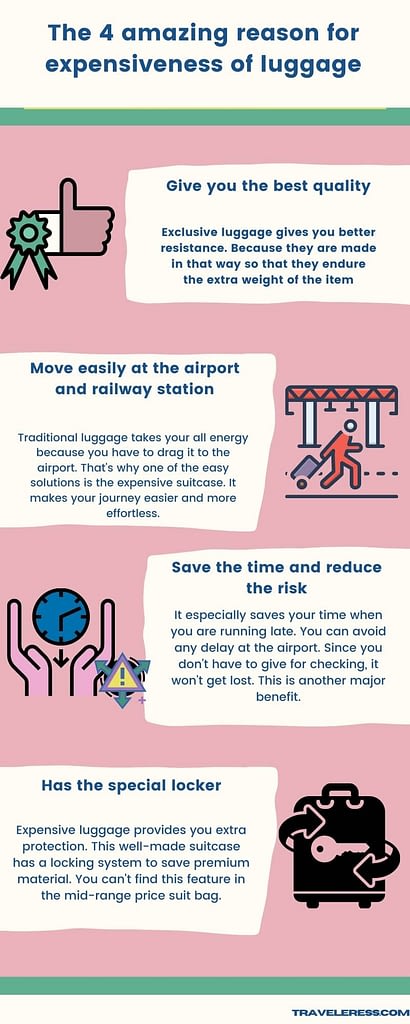 luggage.
1. Give you the best quality
Expensive luggage pieces give you the best quality. It has lots of advantages. One of them is protection. It also secures your durable material. 
Exclusive luggage gives you better resistance. Because they are made in that way so that they endure the extra weight of the item. On the other hand, the traditional suitcase is not designed for extra weight, and they bring different issues.
Before, the luggage was weak and thick. But now the luggage component is very stable. This Backpack is made of a stronger material like polycarbonate or ABS. This material makes the bag more secure and durable.
The thinner suit bag allows enough space inside. You can insert all your valuable things. For this reason, your mind will be calm throughout the journey. And you don't have to face any difficult situations before reaching the destination. Since it provides a high-quality option, it has the right to take high costs.
Am I correct? What are your thoughts on this matter?
2. Move easily at the airport and railway station
A big-budget suitcase has another benefit. And that is movement. You can move high-quality luggage easily on air travel.  
Traditional luggage takes your energy because you must drag it to the airport. That's why one of the easy solutions is an expensive suitcase. It makes your journey more effortless.
One average traveler faces the exact problem because they carry the traditional suit bag.
Manufacturers design the suitcase that reduces your troubles. You must seek a bag that is easy to move. So you should contact that luggage maker.
3. Save time and reduce the risk
Size is very important when you choose the suit bag. You can choose the cabin size. It especially designs for traveling by plane or train. In this way, You can save time without needing to go through the airline's check-in process.
It especially saves you time when you are running late. You can avoid any delay at the airport. Since you don't have to give it for checking, it won't get lost. This is another major benefit.
4. Has the special locker
Expensive luggage provides you with extra protection. This well-made suitcase has a locking system to save premium material. You can't find this feature in the mid-range price suit bag.
Here you can store clothes, toiletries, and tech devices in one bag. You can also use the luggage strap to protect luxury brand luggage.
5. Material cost
According to the cost of materials, luggage is of two types, soft-sided and hard-sided. Soft-sided or soft-shell luggage is a little softer and folds up. Hard-sided luggage or hard-shell luggage is made from hard materials. Hard shell luggage costs less than soft shell luggage.
Hard-sided suitcases are more durable than soft-sided suitcases because soft-sided suitcases are lighter in weight and more likely to be damaged when dropped. The more durable a suitcase is, the more expensive it will be.
Hard shell luggage is made from aluminum or polycarbonate. Aluminum suitcases are expensive. Price Difference Between Polycarbonate and Aluminum, an Away polycarbonate hard-sided suitcase, measuring 22.7" x 14.7" x 9.6", costs about $295, while the aluminum version of the same size costs about $645.
6. Variation in sizes
Variation in luggage size also affects the price to a great extent. Some popular types of luggage usually start with cosmetic bags, tote bags, Then duffel bags, or Backpack, carry-on, and check-in. As the luggage size increases, the cost increases.
7. Superstar Endorsements
Superstars promote their business in the market with makeup, perfume, luggage, and clothing brands. Luggage companies think that they will sell more luggage and gain publicity for a premium product through superstars, which causes the luggage to be overpriced.
Recent famous luggage used by superstars is Rimowa, Tumi, Samsonite, Delsey, Louis Vuitton, and Away Luggage. These are all world-famous luggage brands.
 8. Brand Standard
Nowadays, people look for high-end brands. They want to buy products that have high brand value. After buying those products, they pay extra for the brand name.
Many high-end brands include Gucci, Louis Vuitton, Montblanc, and Marc Cross. They make some exclusive luggage for both men and women. This luggage is so expensive. For example, Louis Vuitton luggage costs $6000. These are operating costs that are associated with brand value for reputation.
9. Exceptionality of the product
Some companies create limited edition luggage that is available in very limited quantities. These high-end brands like to create luggage with different methods.
This luggage looks very expensive and exclusive. Because when luggage companies put all their effort and money into creating the best exclusive product, they charge more for that product. As a result, these exceptional products are given a high price tag, which is logical as it is made with good care and effort. A warranty is also given on those products because specialized companies are more aware of their reputation.
10. More features cost more
Some luggage costs more due to the number of added features. Consumers these days find many more features in high-end luggage, including spinner wheels, built-in TSA-approved locks, and handles that are quite common on luggage.
A unique feature is the laundry compression technology that enables us to pack more clothes in less space. Some other features are Smart Lock with Face ID and Touch ID, Morse code capability, built-in weight sensor, distance alert, and security features using GPS tracking, which makes it easy to keep track of our belongings and locate them if lost.
Additional features such as a built-in scale, detachable daypack, and external USB port make luggage more convenient and travel easier. These features come at a premium price.
Is aluminum luggage so expensive?
Yes, the aluminum luggage is too much costly. The aluminum suitcase is one of the most expensive suitcases. Its price is absolutely skyrocketing.
One of the two limitations of the aluminum suitcase is that it weighs much more than other luggage, and the other is that polycarbonate luggage is much more durable than this luggage.
Despite the limitations, the popularity of aluminum luggage is much higher than other suitcases. The main cause is luggage dents, scruffs, and scratches. As well as keeping the luggage secure, they use a latch closure system instead of zippers. For this reason, aluminum luggage is worth more money.
The price of a good brand aluminum suitcase is much higher because their production cost is also much higher.
Should you buy expensive luggage or a cheap one?
Suitcases are especially involved with travel. Because when we go on the trip, we must carry some products. Which is not possible without a suitcase. Luggage is very important, especially for those who go on trips frequently.
Cheap and expensive suitcases are available in the shops. But the problem with cheap baggage is that it is not very durable. This can lead to suitcase problems anytime, putting you in danger. So in my opinion when buying a suitcase, it should look a little expensive.
Suppose this is a long-term investment of yours. Good quality suitcases give to guarantee a lifetime. Because these suitcases are made with better quality materials. As a result, there is no fear of damage to the luggage handles, locks, and body. So you will not have to face any danger while traveling and you will be able to enjoy your journey.  
What's a Good Price for a Durable Suitcase?
We always think that more expensive suitcases will always be of better quality. But when we buy something, we have to see if the suitcase is worth what we are paying. Sometimes a $150-$400 suitcase is better quality than a suitcase that costs thousands.
When we think about buying a durable suitcase, we can pick a suitcase in the $150-$400 price range. At this price, the suitcase is quite durable and user-friendly. And if you want to buy a designer suitcase with more features, you should be prepared to pay more than $400.
Why Do Airlines Charge Such Expensive Luggage Fees?
When we travel, we pack our valuable things in our suitcases. But if there is no limit to airline baggage fees, think about what can happen.
If there was an opportunity to travel with luggage as desired, everyone would pack all their necessary or unnecessary products in luggage. As a result, the amount of luggage would be much more.
If the amount of suitcases is more, the main problem occurs during check-in. If all the passengers had taken their luggage to the airport at will, there would have been chaos. And it takes a lot of time to check all the luggage individually during check-in.
And among so many suitcases, there is a possibility that the suitcase will be lost or overturned. For these reasons, the airline has kept the luggage fees so high.
If you have been traveling for the last few years, you will notice that airplane ticket prices are declining these days. But luggage fees are rising.
Passengers are not carrying much luggage as the luggage fee is so expensive. They are just packing the necessary elements in their luggage. As a result, the airport authorities are not having to worry about luggage. 
Why Is Checked Baggage So Expensive?
Checked baggage is expensive due to the baggage taxes fixed per piece of bag a traveler carries.
Ticket type
Check baggage allowance varies depending on the ticket type. Checked Baggage Allowance rates increase and decrease by ticket type. For example, a First-Class ticket costs twice as much as a Business Class ticket. In that case, the price of checked baggage allowance also varies.
Excess baggage 
Most people worldwide don't know how much luggage a passenger can carry on an airplane. There are some limitations. Passengers will have to pay additional charges before exiting the airport if the amount of baggage or the size exceeds the limit.
Domestic vs. international
Checked Baggage Allowance mainly depends on domestic and international travel. When traveling internationally, baggage fees are determined by destination. Baggage fees will increase as the flight time increases.
And when traveling domestically, they may have to pay baggage fees ranging from $0 to $350 depending on location and service.
Separate ticket flights
Many travelers use different flights to their destinations to minimize the distance. When multiple flights are used, baggage is checked through multiple air carriers, which increases the baggage fee of various flights. Baggage costs also increase due to different airlines.
Trip Protection Plans
Airlines have different laws covering a certain amount of damage and also state that this policy only applies where baggage is lost or baggage is damaged due to the airline's negligence.
Final thought:
Is it clear why the luggage is so expensive?
You can make travel efficient and pleasant by taking expensive luggage from the luggage company. This suitcase can protect your premium material. You can get better service which the average traveler doesn't get.
In air travel, Using a big-budget suitcase help you to gain the best travel experience. The luggage maker designs this so that you get the best and most well-made suitcase. If you the person who is a frequent traveler and have a mid-range price, you can buy those too. That piece of luggage is available from many luggage companies.
But if you take expensive luggage, you can get a lifetime warranty. You will also get better terms of features than a traditional suit bag. 
In this chapter, I discuss the reason for the expensive suitcase. I will also give you some knowledge about how you look for durable check-in luggage. Can you get the idea for buying a suit bag? Hope you can buy the best luggage.
Now I want to hear from you, what do you think? Should you buy expensive luggage? Or should you buy the cheap one?
Inform me by commenting below. If you find this helpful, don't forget to share. Ok???
Thank you for reading the article.